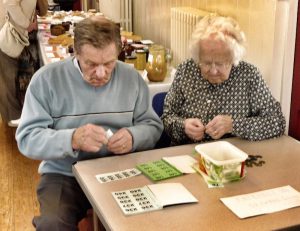 Blencogo School was founded in 1854 by local benefactor and landowner George Dixon. The old school is now Blencogo and District Village Hall and apart from St Mungo's Church in the neighbouring village, it is the only public building in the rural parish of Bromfield. In 1990 following a fall in pupil numbers, Cumbria County Council announced its closure. Despite a well supported campaign to keep it open, the school closed in 1991.
The villagers of Blencogo took over the running of the building as a community facility to ensure it wouldn't be sold. A lease agreement between the Village Hall Committee and the Diocesan Board of Education in 1993 ensure a new chapter in the life of the old school building.
A National Lottery Community Fund award in 2002 meant the hall could be renovated and its facilities upgraded. The building now houses a small meeting room, new storage facilities, a fully equipped kitchen and modern toilets. The common ground opposite was redeveloped as a community park and play area and a dedicated car park was created at the rear of the building.
An additional grant from the Heritage Lottery Fund enabled the restoration of thirteen small painted wooden shields previously attached to wooden beams in the ceiling. The hall also houses the old school merit boards and two community ceramic murals.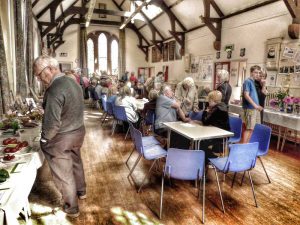 The Old School is a key public building in the Parish. Activities held here include Indoor Bowls, Harvest and Flower Festivals, Parish and Church meetings, Waver Wine Circle, Dundraw WI, and a Toddler Group. Other events that take place in around the hall include the carnival, the annual bonfire, concerts and arts events. The building is now well equipped for catering and is a popular venue for private events – parties, receptions and business meetings.
If you are interested in hiring the hall, it's easy to make an enquiry. You can hire just one room or the full hall at competitive rates.  Located just 4 miles north west of Wigton, the hall is in an ideal place for an event or meeting. The main hall and the smaller committee room are available. There's a generous stage, a bouncy castle, disabled facilities, kitchen facilities and a children's play area opposite. There is parking for up to 40 cars.
To make an enquiry please contact Gary or Shiona – see below for contact details.